The Hepatitis Education Project (HEP) was founded in Seattle in 1993 by a group of patients and medical professionals to provide support and education to others living with chronic hepatitis.

Since then, HEP's reach has grown significantly through partnerships at city, state and federal levels. The shape of our work has evolved over the last three decades, but our mission has remained the same: to reduce the morbidity and mortality associated with viral hepatitis.

We create the change we want to see through our programs, which provide low-barrier essential healthcare services at zero cost to the public, with a focus on serving people who use drugs, people experiencing homelessness, and marginalized communities disproportionately impacted by viral hepatitis.
Address
1621 S. Jackson St, Suite 201
Seattle, WA 98144

Current Hours
Mon-Thu, 12:30-5:30 p.m.

Phone: (206) 732-0311
Fax: (206) 299-0855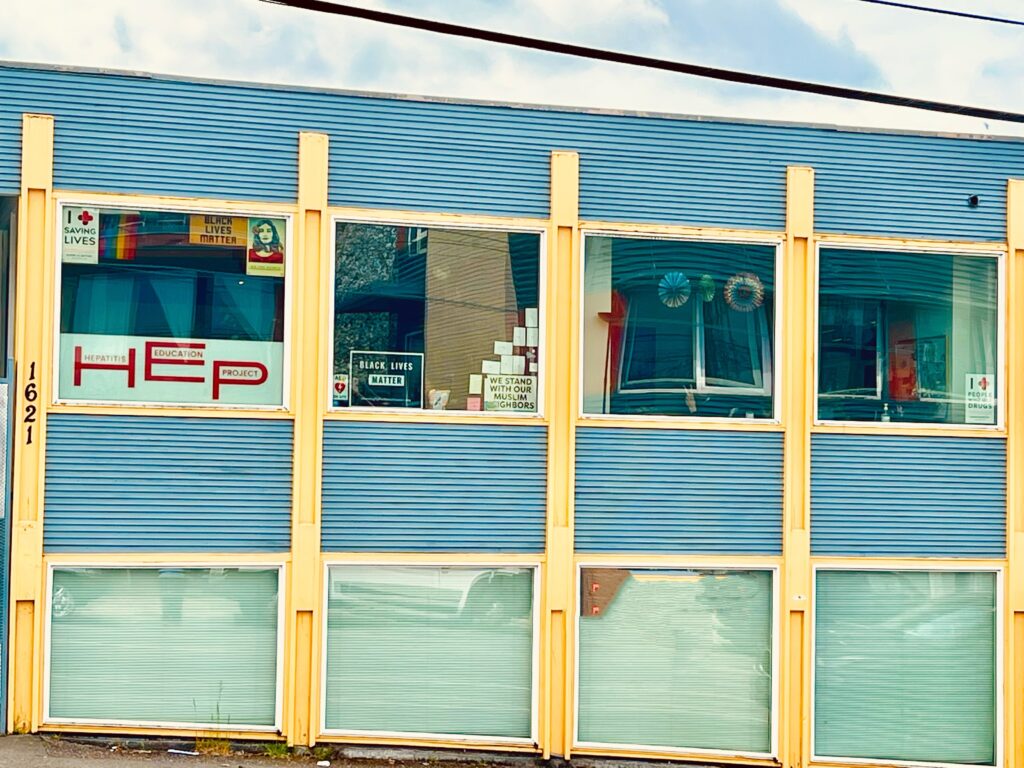 HEP's Care Coordination Program (est. 2014) is one of the first hepatitis C medical case management programs in the country, which aims to identify people living with HCV and link them to medical care, treatment and cure.

Our passionate team of care coordinators help connect clients with primary care providers, determine client eligibility for social and medical programs, including health insurance and patient assistance programs, understand treatment plans, and more.
Our Prevention and Outreach Program offers free hepatitis C (HCV) rapid antibody screening, HCV confirmatory testing, hepatitis B (HBV) confirmatory testing, and hepatitis A/B vaccinations to low-income and uninsured adults.

We provide these services within our building just off the corner of 17th and S Jackson in Central District, as well as at needle exchange programs, methadone clinics, drop-in centers, shelters and transitional housing programs, and health fairs throughout King County.
Since 2017, we've also operated an in-house Syringe Service Program. Syringe programs are an important tool in reducing health disparities among people who use injection drugs.

In addition to reducing the risk of viral hepatitis and HIV through the provision of sterile injection equipment, exchanges provide vital links to hepatitis and HIV testing and treatment, substance use treatment, and overdose prevention.
Our newest addition, Seattle STEP Clinic (est. 2018) is a collaborative effort with Country Doctor Community Health Centers that provides low-barrier prescriptions for medications that assist in discontinuing opioid use.

New patients can walk in without an appointment from 1:00 – 3:30 p.m., Tuesday through Thursday. Prescriptions are generally provided on the first day, and participants do not need to pass a drug test or attend counseling to receive care through STEP.